1 April - Canberra, the Snowy Mountains and the road to Melbourne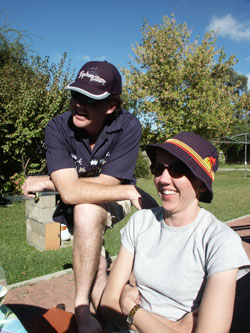 Canberra meant a chance to catch up with Peter and Annie Cumper who I hadn't seen in ages - Peter and I worked together at Lloyds along with a large team of other miscreants who are still mostly in touch. The highlight of the weekend was undoubtedly back-yard cricket after the Sunday barbie - it's been years since I've had to climb over fences to retrieve balls...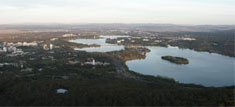 Above:
Views of Lake Burley Griffin from Telstra Tower. This is the City that Bob Hawke deems too boring to live in.

The only ways to leave Canberra are:
1. Get voted out, or;
2. To drive as fast as you can around one of the circular roads until you reach escape velocity, and get flung out by centrifugal force in a random direction which would normally be a problem were it not for the great sense of relief that you feel on escaping...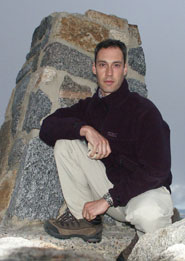 From Canberra I drove to Mount Kosciuszko, the highest point on the continent. From the car park at the end of Charlotte Pass it's a little over a ten mile round trip to the peak, and as I was running out of time I had to run back down a fair amount of the return leg before sunset. Thus I conquered my first, but hopefully not my last continental peak... (Left)

After over-nighting at the backpackers hostel at Jindabyne, and breakfasting at Thredbo I headed west. The drive from the Snowy Mountains to Melbourne runs through some spectacular scenery, and descends into Victoria through Ned Kelly country. I couldn't resist stopping off at the site of Ned's last stand.
Despite the advice of the Rough Guide I stopped off for the night in a traditional hotel at Seymour, where I was adopted by a quiz team who despite my help managed to win the prize for the week. The following morning I continued on to Melbourne to drop off my hire car, watch Richmond get thrashed by Essendon at the MCG, and book my trip to Tasmania
Next: 6 April - Tasmania